AUTHORED BY: MR. AVINASH PANDEY, B.B.A.LL.B, 2ND YEAR STUDENT AT IFIM LAW COLLEGE & RESEARCH WRITER AT LAW AUDIENCE.
 Section 498A[1] shield of corrupted women's
To oppose Gender-neutrality.
To safeguard Male gender from bias.
To represent the clear view of harassment, extortion, Coercion faced by husbands.
I. INTRODUCTION:
Marriage is the purest event as we are considering from Pre-historical decades after human civilization came into existence. Marriage considered as the exclusive union of two souls. According to Hindu religion, married women secure the status of ARDHANGINI which signifies that women become half of their husband after marriage. Criminality among women's has progressed to such extent, that nowadays woman's are dragging their innocent laws to tribunals, courts for the sake of money. In today's scenario, it's difficult to pre-determine that domestic violence happens to women only. It's very opprobrious, embracing state when an individual including his family faces such unexpected span due to fraudulent cases or complaints, thus it totally destroys the intellectual state of the victim, for obtaining more property & money women's takes help of extortion, coercion, mental or physical harassment which sometimes leads to the individual's suicide. Section 498A of I.P.C. deals with cruelty faced by women by her in-laws, sec 125 IPC deals with maintenance for the wife, so these all are some special laws made by Constitution in favour of women's. Now if we see from Men's point of view is there any Section 498B IPC deals with cruelty faced by men or else any other special priority? No, there is not a single law which supports men on the grounds of legality. Thus cry of the victim will not be heard or entertained by society or court.
II. STATISTICS OF CRIME IN INDIA: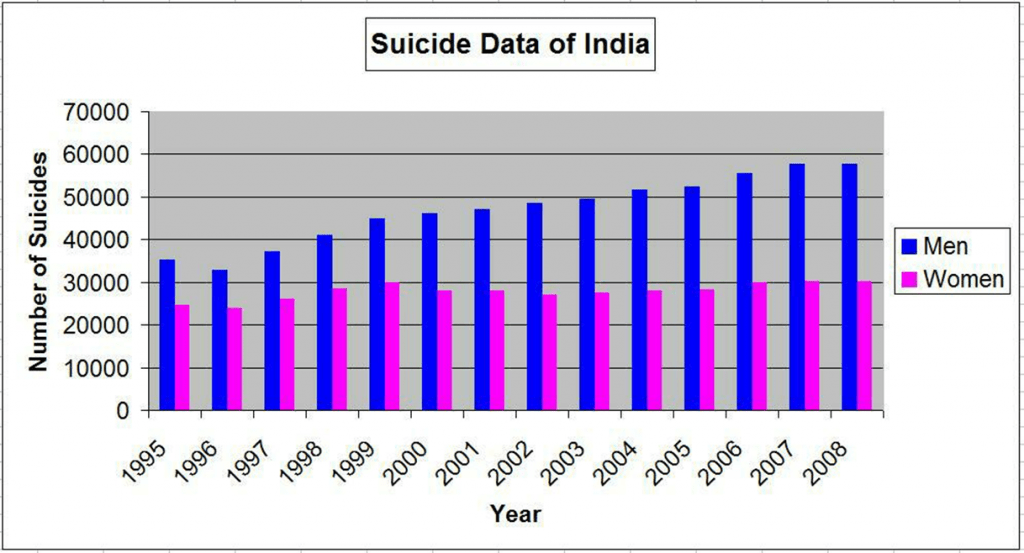 III. THE CONSEQUENCE OF CRIME IN THE CIVILIZATION:
The Courts are considered as the home of justice in India. They never differentiate between any creed, any religion, and any person because all are equal before the law, perhaps which lays in particular criteria as recommended by the legislature. Now the work of courts, legislature & the judiciary is absolutely transparent which is to ensure peace, liberty, fraternity, harmony among all the citizens present in a state.
In the case of Preeti Gupta v. State of Jharkhand & Anr the Hon'ble court held that "observed that 498A is a very rigid provision which can cause effect sometimes while implementing. The core lesson we obtain from this judgement is that "Procedural laws are made too hard than the object of the substantive law will be frustrated[2]". 
During the relationship disputes, authorities should provide the chance of conciliation which can help both parties in a very effective way. Provision of 498A didn't provide the license to women to extract personal revenge or unleash harassment. Sometimes women use this all strict & rigid provisions as a handy weapon by claiming on their husband's for Bigamy or extra-marital affairs which could cause extreme stress over victim psychology also to his family. Time by time this legal protection is becoming legal terrorism which is affecting society & presenting a bad example to others which can also be considered as defamation of law.
Sometimes, the attacks carried by the wives are either disastrous in nature or harm the man critically, wife & her relatives are given open permission to perform offences on husbands & then file a complaint of 498a to defend their own scandals. Cases delay for years together because judges do not allow the adequate process in the cases & concede any number of intermissions to the wife when she does not attend the court hearings. Judges do not drop the cases even if the wife does not attend the cases for years together, judges take the long span of time together to simply decide on warrant petitions.
In the case of Dr. N.G. Dastane vs Mrs. S. Dastane[3] the Hon'ble court held that the cruelty is of type types:
a) Mental
b) Physical
The Reality which cannot be ignored that ugly trend of false implications with the motive of harassment & blackmailing, Facing unnecessary trials of the court has to be stooped, "piece of legislation " should not be "symbol of terror "which can lead frequent arrest or detention which serves a bad example to the society.
Women misuse 498A through which she commits following crimes:
Crime against family members, husband, relatives & laws by putting them in danger by fake cases
Crime against religious vows that she took during marriages system
Crime against Sanctity of court
Crime against all legal authorities who supported for the respective case.
Certain sanctioned hypotheses are expressed which again are rebuttable. It is to be remarked that the use of the fact-finding agencies and the courts is that of watchdog and not of a bloodhound. It should be their struggle to see that an uninvolved person is not made to bear on record of unproven, baseless and wicked accusations. It is fairly unquestionable that in several cases no first-hand evidence is ready and the courts have to work on hypothetical evidence. While dealing with such cases, the law laid down regarding the circumstantial evidence has to be retained in view.
IV. CONCLUSION:
Laws are meant to protect women but eventually, it's hitting back to the husband with more deep wounds. The clear intention of framing the law system is to provide a safeguard to women but many matters came to light were complaints are not bonafide hence filed with an oblique motive. It is the primary duty of all organizations that they should examine the accusation accurately without any prejudice towards the woman retaining in perception that the law is being mistreated extensively to harass more women in husband's family. Whenever any court comes to the judgment that the accusations made concerning the commission of the offence under section 498a IPC are unfound, acrimonious action should be taken upon persons making the accusations.
[1] [498A. Husband or relative of husband of a woman subjecting her to cruelty.—Whoever, being the husband or the relative of the husband of a woman, subjects such woman to cruelty shall be pun­ished with imprisonment for a term which may extend to three years and shall also be liable to fine. Explanation.—For the purpose of this section, "cruelty" means:
(a) any wilful conduct which is of such a nature as is likely to drive the woman to commit suicide or to cause grave injury or danger to life, limb or health (whether mental or physical) of the woman; or
(b) harassment of the woman where such harassment is with a view to coercing her or any person related to her to meet any unlawful demand for any property or valuable security or is on account of failure by her or any person related to her to meet such demand.].
[2] Preeti Gupta & Anr vs State Of Jharkhand & Anr SCC AIR 2010
[3] Dr. N.G. Dastane vs Mrs. S. Dastane AIR 1975 SC 1534